Tony Preston - Investigator
Published by
Founder
on 07/09/2008 (4037 reads)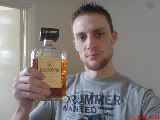 Name: Tony Preston
Age: 25
Occupation: Service layer
Role: Assistant Director of investigations for the Hampshire Ghost Club
The Paranormal has been an interest of mine since I was a wee boy in primary school. I remember reading the same ghost book everyday at reading time and was fascinated, it wasn't your average ghost book more like a Scooby Doo adventure story book but non the less I was hooked.
My first experience that I can recall was when I was about 6 years old, I woke up in the middle of the night and for some reason felt compelled to look out of the window upon looking I remember seeing a silhouette of a man wearing a dick tracey style hat standing at the end of the hedge on the right hand side of my back garden. Since then I knew that there was more to this than meets the eye and in 2001 my uncle Dave founded the HGC and I have been investigating the paranormal ever since.
Since attending that all important first investigation at Wymering Manor I have experienced a great deal that even the most sceptical would question and it is this and this alone that keeps me on the track of investigating things that go bump in the night.